James Watt Bicentenary July 2019 receives HLF Grant

Press release
5th September 2018
Lunar Society awarded Heritage Lottery Grant for James Watt Bicentenary
The Lunar Society is celebrating after being awarded a £99,000 grant from the Heritage Lottery Fund towards next year's James Watt Bicentenary commemorations.
2019 marks the 200th anniversary of the death of James Watt (1736-1819), one of the most important historical figures associated with Birmingham and the Midlands.
Born in Greenock in Scotland in 1736, Watt moved to Birmingham in 1775 to enter into partnership with Matthew Boulton (1728-1809) to manufacture an improved steam engine that incorporated his innovation of the separate condenser. The Boulton & Watt steam engine was fundamental to the changes brought by the Industrial Revolution in both Britain and the rest of the world.
Thanks to National Lottery Players, the James Watt Bicentenary project will develop and deliver a wide range of public activities and events to commemorate, celebrate and explore the life of James Watt and his global legacy.
These will include a major exhibition at the Library of Birmingham (featuring internationally significant archival material and artefacts), a schools programme, talks, tours, films and performances, a heritage trail, and a community engagement programme focussed on Handsworth where Watt lived for 30 years until his death in 1819.
The Lunar Society is working with a host of partners to deliver the Bicentenary project, including History West Midlands, Birmingham City Council, The Library of Birmingham, Birmingham Museums Trust, the Centre for West Midlands History at the University of Birmingham, Assay Office Birmingham, the Jewellery Quarter Development Trust, Handsworth Parish Church, St Paul's Church and Legacy WM.
Rt Hon Jacqui Smith, Chair of the Lunar Society, said:
"James Watt was a member of the original Lunar Society and one of the most important figures associated with Birmingham and we are delighted that the HLF is supporting this major centenary.
"As well as enabling people to become familiar with Watt and his achievements, we will be looking to the future and asking how Watt's ideas link to present day science, technology and innovation.  Engaging with communities and young people and working with some great partners will bring Watt back to life to influence the future as he shaped the past." 
Vanessa Harbar, Head of HLF West Midlands, said:
"We are delighted to support this project which, thanks to money raised by National Lottery players, will mean that more people will be able to get involved with the exciting heritage right on their doorstep."
For further information about the Watt Bicentenary programme contact Chris Rice on 07808 887183 or email rice200510@yahoo.com
ENDS
Event Details
Venue:
Date: Jul 28, 2019
Time: 09:00
In: Birmingham, Watt,
Books from History West Midlands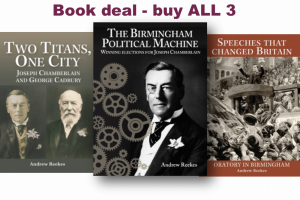 Book Bundle - The Birmingham Political Machine PLUS Two Titans, One City & Speeches that Changed Britain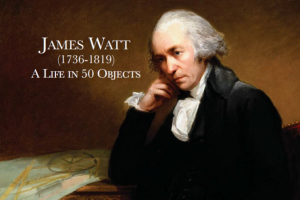 More from History West Midlands
Paypal, Visa, American Express, Mastercard
For your security, we do not store any card details on our site.