Launch of Book 'The house where the Weather was Made' - A Biography of Chamberlain's Highbury

From 1881 to 1914 Highbury, standing on the edge of Birmingham in the English Midlands, was the home of Joseph Chamberlain, the often controversial politician described by Winston Churchill as 'the one who made he political weather'.
In this fascinating book Chamberlain's biographer, Peter Marsh, explores how the house designed and built for Chamberlain became the centre of a dynasty that shaped the political history of Britain and its Empire.
Highbury was also the family home shared by Chamberlain and his third wife Mary whom he had married in the United States of America. New research conducted by historian Justine Pick with Professor Marsh provides a unique window into their marriage and the private persona of the contentious and often caricatured politician.
The House where the Weather was Made also reveals the pathos of Chamberlain's final eight years of life following the stroke which left him paralysed and how, after his death in 1914, Highbury was abandoned by the family before becoming a wartime hospital and a home for elderly women.
Today, the house with all the stories it has to tell is beginning a new chapter of renewal under the stewardship of the Chamberlain Highbury Trust.
1830 hours - Drinks reception
1900 hours - Presentation by Chamberlain's biographer, Peter Marsh followed by Q&A
2000 hours - Drinks and book signing
TO PRE-ORDER AT A SPECIAL PRICE*
*until 1st October
Event Details
Venue: Highbury Hall, 4 Yew Tree Road, Birmingham B13 8QG
Date: Oct 25, 2019
Time: 18:30
Cost: FREE
In: Chamberlain, Highbury, Birmingham,
Books from History West Midlands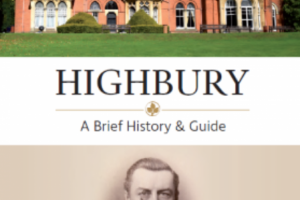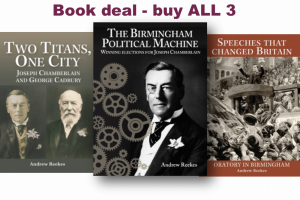 Book Bundle - The Birmingham Political Machine PLUS Two Titans, One City & Speeches that Changed Britain
More from History West Midlands
Paypal, Visa, American Express, Mastercard
For your security, we do not store any card details on our site.