'Deeds not Words' - Forgotten Birmingham Suffragettes and Suffragists
For too long the importance of Birmingham and the West Midlands in the story of women's struggle for the vote has been forgotten.
Now we have turned a spotlight on the stories of the women who as suffragists devoted their lives to the cause and the suffragettes whose militant acts resulted in imprisonment and, often, force-feeding.  Dr Nicola Gauld highlights the importance of the their struggle and discusses more in her important new book 'Words and Deeds: Birmingham Suffragists and Suffragettes 1832-1918'
About the author - Dr Nicola Gauld
Nicola Gauld is a freelance outreach worker and curator based in Birmingham, United Kingdom. She studied History of Art at the University of Aberdeen and attained a PhD in 2006. Since then she has worked on a number of exhibitions and outreach projects including Endless Forms: Charles Darwin, Natural Science and the Visual Arts (Fitzwilliam Museum, 2009), Children's Lives (Birmingham Museum & Art Gallery, 2011), Caught in the Crossfire: Artistic responses to conflict, peace and reconciliation (Herbert Art Gallery & Museum, 2013) and Fight for the Right: the Birmingham Suffragettes, a history project in which students from two local schools explored the suffrage campaign in Birmingham and made a short historical re-enactment film. Her current main role is Coordinator of Voices of War & Peace, an Arts & Humanities Research Council funded First World War Engagement Centre, led by the University of Birmingham. She also works with two organisations, Women's History Birmingham and the People's Heritage Co-operative, on community-focused heritage projects, most recently Untold Stories: Birmingham's Wounded Soldiers from WW1 and Birmingham Women: Past and Present Revisited.
Keywords: Suffragettes, Suffragists, right to vote, Nicola Gauld, Words and Deeds, militant acts, women
In Birmingham, Women, Victorian,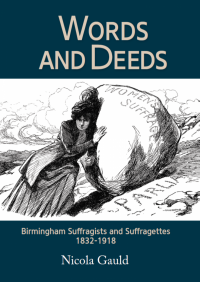 Words and Deeds - Birmingham Suffragists and Suffragettes 1832-1918
'When words needed saying and deeds needed doing...' Speech given at 1871 suffragist meeting in Birmingham by Eliza Sturge. In September 1909 Britain was shocked by the news that the Prime Minister, Herbert Asquith, had been attacked as he left a meeting at Birmingham's Bingley Hall when, despite a...
Presented by:
Dr Nicola Gauld
Directed by:
Sean Griffiths
Produced by:
ICE Productions
Featuring:
Hilda Burkett: Emerald O'Hanrahan/Bertha Ryland: Bryony Tebbutt/Maude Smith: Dru Stephenson/ Man: Ikey Hall/ Nurse: Heather Burrell/Nurse: Hermione Hellyer/Policeman in Street: Guy Rowland
Thanks to:
Consultant: Jenni Butterworth/Music: Johannes Bornlof/
Written By:
Helen Cross
Narrated By:
Policeman Narrator: John Burton
Presented and Narrated By:
Dr Nicola Gauld
Recorded By:
Camera and Avid Editor: Sean Griffiths
Assistant Camera Operator:
Sam Burton/Levi Sitladin
Producer:
Michael W. Gibbs
Additional Photography by:
Director of Photography Drama: Gary Tanner
Archive Footage supplied by:
Imperial War Museum, British Pathe, Alamy, The British Newspaper Archive, Getty Images, Hudson Archive
Special Thanks to:
Black Country Living Museum/Birmingham Cathedral/Birmingham Museum and Art Gallery/University of Birmingham/The Ironbridge Gorge Museum Trust/West Midlands Police Museum/Winterbourne House and Garden/Library of Birmingham/Birmingham Town Hall/ (THSH)/Film Birmingham
Run Time:
21.25