Restoring and celebrating Divine Beauty of Burne-Jones windows - Birmingham Cathedral
The Divine Beauty of the magnificent stained-glass windows created by Birmingham-born Pre-Raphaelite artist, Edward Burne-Jones at Birmingham Cathedral.
Made in the workshop of William Morris these treasures show The Nativity, The Crucifixion, The Ascension and The Last Judgement; A project has been launched to restore and celebrate them.
For more information visit www.divinebeautyproject.com
KEYWORDS: Stained Glass, Glass, Birmingham, Cathedral, Edward Burne Jones, Pre-Reaphaelite
In Cathedrals, Glass, Art, Birmingham,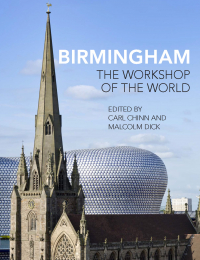 Birmingham
A celebration of the city's history and achievements, revealing the wonderfully rich diversity of Birmingham's people. Illuminating little-known aspects of the city's history as well as rethinking traditional events and activities. Presenting up-to-date historical and archaeological research to a general readership: locally, nationally and internationally. Written by experienced and distinguished...
Featuring:
Rt Rev. David Urquhart, Jane McArdle
Copyright Date:
©2017