In These Times: Living in Britain Through Napoleon's Wars
Well-known social historian and prize-winning author Jenny Uglow is publishing a fascinating new book entitled In These Times: Living in Britain Through Napoleon's Wars.
Jenny will preview her book and explore the stories of people from the region in a special evening organised by History West Midlands in central Birmingham on 30th October.
While the political and military history of the Napoleonic Wars is well known, In These Times turns the news of the first global war upside down, seeing how it reached the people. Illustrated by the satires of Gillray, Rowlandson and the paintings of Turner and Constable, and combining the familiar voices of Jane Austen, Wordsworth, Scott and Byron with others lost in the crowd, the book delves into the archives to tell the moving story of how people lived and loved and sang and wrote, struggling through hard times and opening new horizons that would change their country for a century ahead.
KEYWORDS: Napoleonic Wars, Napoleon, Jenny Uglow, Book
In Napoleonic Wars,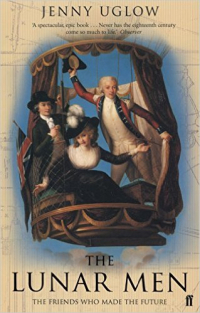 The Lunar Men
Led by Erasmus Darwin, the Lunar Society of Birmingham was formed from a group of amateur experimenters, tradesmen and artisans who met and made friends in the Midlands in the 1760s. Most came from humble families, all lived far from the centre of things, but they were young and their...