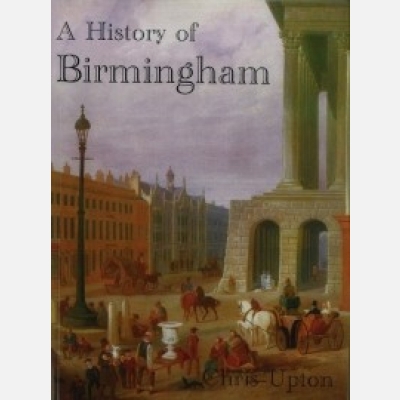 A History of Birmingham
£15.99
Birmingham was a village worth only one pound in the Domesday Survey, yet it rose to become the second city of the British Empire with a population that passed a million. Its growth began when Peter de Birmingham obtained a market charter in 1154 for his little settlement by an insignificant river, with all roads leading to its all-important market-place, the great triangular Bull Ring, with the parish church of St Martin's in the middle.
In the succeeding centuries, Birmingham has been a product of market forces, as a market of agriculture, trade and metal work. By the 18th century, Birmingham overtook Coventry as the biggest town in Warwickshire and by 1800 it was 'the toy shop of Europe', having cornered the markets for gun-making, jewellery, buttons and buckles with a bewildering variety of specialist craftsmen and traders. The factory system had already begun and men like James Watt, Matthew Boulton, Joseph Priestley and William Murdock made Birmingham the powerhouse of the Industrial Revolution, selling their wares in vast quantities to the entire world. The middle of the 19th century saw Birmingham pioneering political reform, education and municipal government.
In this first single-volume history of the city for half a century, Dr Upton looks at why Birmingham grew and what it has become. It has always been a place in which to experiment, from the steam engine to the factory in a garden; from the Bull Ring to Spaghetti Junction.
To some, the story of Birmingham is one of great industries: Boulton and Watt, Dunlop, Cadbury's, G.K.N., Lloyd's Bank and Austin Rover. But there are many lesser known tales: of the Bull Ring Riots, the Onion Fair, the first floodlit football matches and the tripe sellers. It is a story of communities, too. The Quakers settles in the 17th century, the Irish and Italians in the 19th and, more recently, people from the Caribbean, the Indian subcontinent, China and Vietnam have all made Birmingham their home. As Birmingham makes it marks on the map of Europe again, one thing is certain... the story of the city that brought us Joseph and Neville Chamberlain, Thomas the Tank Engine, Fu Manchu and Mendelssohn's Elijah can hardly be dull. Chris Upton's lively account ensures that Birmingham's fascinating story loses nothing in telling.
Published: 2011-05-01 
Paypal, Visa, American Express, Mastercard
For your security, we do not store any card details on our site.