Hidden Home Front: Episode 3 - Caring for the wounded
Hidden Home Front: Caring for the Wounded
Thousands of wounded soldiers were cared for in the more than 30 convalescent hospitals and homes in the West Midlands. As military hospitals were soon overwhelmed.
​The wounded in their distinctive blue and red uniforms became a familiar sight in the towns and villages across Worcestershire.  They were nursed by women who had never previously worked outside the home and their experiences changed their lives forever.
​Many of the convalescence hospitals were opened by privat individuals in large houses and public buildings across the county.
​In Episode 3 of our series Hidden Histories of the Home Front Lesley Spiers, Senior Lecturer at the University of Worcester, tells the stories of hospitals such as Abbey Manor near Evesham and its formidable owner Mrs Florence Haynes Rudge who cared for more than 3600 wounded soldiers from 1915-1919.
KEYWORDS: Women, World War I, Home Front, Wounded, Convalescence, Medical, Worcestershire, Maggie Andrews
In World War 1, Worcestershire,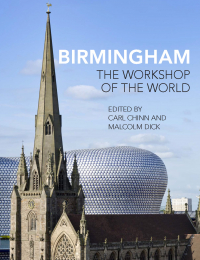 Birmingham
A celebration of the city's history and achievements, revealing the wonderfully rich diversity of Birmingham's people. Illuminating little-known aspects of the city's history as well as rethinking traditional events and activities. Presenting up-to-date historical and archaeological research to a general readership: locally, nationally and internationally. Written by experienced and distinguished...
Presented by:
Lesley Spiers, University of Worcester
Directed by:
Sean Griffiths
Featuring:
Professor Maggie Andrews, University of Worcester
Thanks to:
Jill & John Phipps, Abbey Manor
Recorded By:
Andy Partington
Images Kindly Supplied by:
Imperial War Museum, Worcestershire Archive and Archaeology Service, Library of Congress
Run Time:
15.15