Vittoria Street: Encapsulating the Jewellery Quarter
Just a few yards from the Chamberlain Clock at the heart of the Jewellery Quarter is a street that encapsulates the social and economic history of this distinctive and important district.  It is Vittoria Street.  Seemingly a quiet backwater in the midst of this busy area, yet does Vittoria Street have an intriguing history that tells us much about the stages of development of the Jewellery Quarter, its historical buildings, its manufacturers and the lives of its residents, poor as well as wealthy.
Keywords: Vittoria Street, Carl Chinn, Birmingham, Jewellery Quarter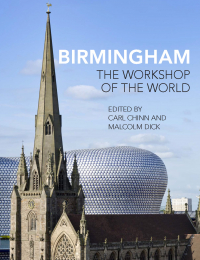 Birmingham: The Workshop of the World
A celebration of the city's history and achievements, revealing the wonderfully rich diversity of Birmingham's people. Illuminating little-known aspects of the city's history as well as rethinking traditional events and activities. Presenting up-to-date historical and archaeological research to a general readership: locally, nationally and internationally. Written by experienced and distinguished...
In: Birmingham, Carl Chinn,