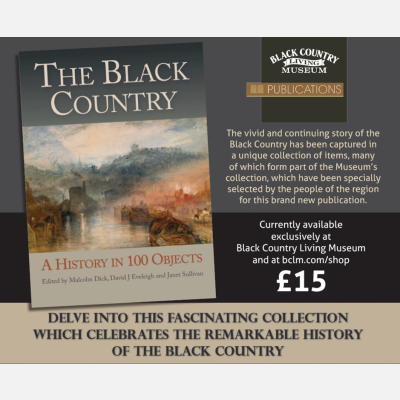 The Black Country: A History in 100 Objects
£
 To purchase this book for £15.00 please CLICK the following link - https://www.bclm.co.uk/shop/the-black-country-a-history-in-100-objects/1769.htm
The history of the Black Country is remarkable and worth celebrating. Its world-famous, fossil-rich geology provided the natural resources on which Britain's industrial heartland was built.
Black Country people made everything from anchors for ocean liners, nails and chains, to fine glassware and enamels. They also forged a unique culture of hard work, skill and self-deprecating humour expressed in their distinctive language.
This vivid and continuing story is now captured in a new book featuring a unique collection of items specially selected by the people of the region.
Edited by Malcolm Dick, David J Eveleigh and Janet Sullivan.
Paypal, Visa, American Express, Mastercard
For your security, we do not store any card details on our site.