Highbury During the First World War
Highbury, the Birmingham family home of Joseph Chamberlain lay empty at the beginning of 1915, as the rest of the family had dispersed after his death. Britain was at war and like other private owners, Austen Chamberlain offered Highbury for use as an auxiliary hospital. Supported by funds from the employees of Kynoch Limited for equipment and War Office grants, voluntary organisations established the Highbury Volunteer Aid Detachment (VAD) Hospital between May 1915 and February 1919. It quickly developed into an orthopaedic and neurological hospital where longer-term specialist treatments were given.
Keywords: Highbury, Chamberlain, World War I, Home Front
Download the Full Article (PDF)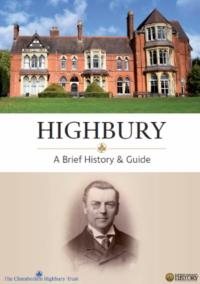 New Guide to Chamberlain's Highbury
New Guide to Chamberlain's Highbury Released on Sunday, 16th September - Pre-order for despatch on Monday, 17th September 2018 Highbury is the home of the Chamberlain dynasty on the outskirts of Birmingham. Built in 1879 by Joseph Chamberlain - one of the pre-eminent politicians and statesman of the late Victorian...