Joseph Chamberlain - Man, Politician and Icon
July 2014 is the centenary of the death of Joseph Chamberlain - the iconic mayor of Birmingham who shaped much of the city we know today.
Chamberlain dominated the city's political life for more than three decades and by the 1890s Birmingham was known as "the best governed city in the world."
KEYWORDS: Joseph Chamberlain, Birmingham, Mayor, Victorian, Highbury, Town Hall, Education, Water, Gas, University of Birmingham, Civic Gospel, Boer War, Key Hill Cemetery, Books
In Chamberlain, Birmingham,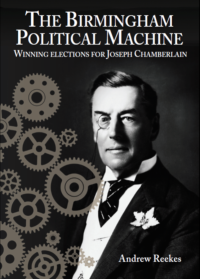 The Birmingham Political Machine: Winning Elections for Joseph Chamberlain
The British electorate swelled dramatically with the passing of the Second Reform Act in 1867. This presented the political class with a significant challenge. Here was a large, new electorate which needed to be understood, managed, enthused, and persuaded to vote for the right candidate in local and parliamentary elections....
Featuring:
Dr Ian Cawood
Thanks to:
Birmingham Museums Trust