Professor Tobias Döring talks about the treasures held in the Birmingham Shakespeare library in the German language
Birmingham's Shakespeare Library has always held more materials in German than in any language other than English.  There are now thousands of German holdings, including some utterly unique treasures.  In this film, Professor Tobias Döring of Ludwig Maximilian University, Munich, presents perhaps the most extraordinary and iconic German book in Birmingham's Shakespeare Library and reflects on the important relationships between Birmingham, Shakespeare and Germany. 
Keywords: Professor Tobias Döring, Shakespeare Library, Everything to Everybody, Shakespeare, Birmingham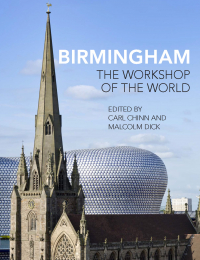 Birmingham: The Workshop of the World
A celebration of the city's history and achievements, revealing the wonderfully rich diversity of Birmingham's people. Illuminating little-known aspects of the city's history as well as rethinking traditional events and activities. Presenting up-to-date historical and archaeological research to a general readership: locally, nationally and internationally. Written by experienced and distinguished...
With:
Professor Tobias Doering
In: Birmingham, Shakespeare, Ewan Fernie, Everything to Everybody, George Dawson,