A Shakespearean Commonwealth
Birmingham's Shakespeare Library was multi-cultural and multi-lingual from the first.  It is a repository of global interpretation and creative response to the world's great dramatist from the West Midlands. 'Everything to Everybody' will explore and celebrate the Library's rich Commonwealth holdings and connections in anticipation of the Birmingham 2022 Commonwealth Games.  George Dawson wanted to establish a 'cultural commonwealth' in the city, but Birmingham has changed considerably since his time, and the imperialism of the nineteenth century has been criticised.  Even while it brings out the intrinsic diversity of the world's first great people's Shakespeare Library, the 'Everything to Everybody' Project will identify current barriers to cultural inclusion, developing new ways of transcending them in the interests of making traditional British heritage more inviting and open today.
To find out more about the 'Everything to Everybody' Project: https://everythingtoeverybody.bham.ac.uk/
Keywords: Shakespeare, George Dawson, Shakespeare Library, Professor Ewan Fernie
In Birmingham,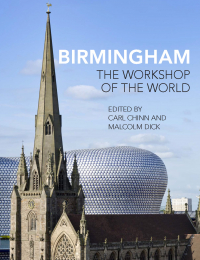 Birmingham: The Workshop of the World
A celebration of the city's history and achievements, revealing the wonderfully rich diversity of Birmingham's people. Illuminating little-known aspects of the city's history as well as rethinking traditional events and activities. Presenting up-to-date historical and archaeological research to a general readership: locally, nationally and internationally. Written by experienced and distinguished...
Recorded By:
ICE Productions
Run Time:
1.05
Copyright Date:
2019