The first great Shakespeare Library - A forgotten Birmingham story
Hidden away and forgotten by most of the people of Birmingham is the world's first great Shakespeare library.
It is one of the city's best kept secrets, known only to a few academics, here and overseas.
But when it first opened its doors to the people of Birmingham in 1868, the Shakespeare Memorial Library was the envy of the world, which looked to Birmingham as the home of a comprehensive 'Civic Gospel'.
This was the concrete expression of the vision of George Dawson (1821-1876) – Birmingham's forgotten philosopher-prophet.  And the Birmingham Shakespeare Memorial Library is one of its most important surviving legacies.
Dawson conceived of a library where the Bard and his works would belong to every citizen, not just a cultured elite or academia.
Paid for by public subscription, this world-class collection includes more than 40,000 volumes – among them the only Shakespeare First Folio in the world bought as part of a vision of comprehensive (including working-class) education. 
And it still belongs to the people of Birmingham.
Hear more about this wonderful fruit of George Dawson's vision for Birmingham as a world-leading modern city in this second of two podcasts by Shakespeare scholar, Professor Ewan Fernie of the University of Birmingham, in discussion with Mike Gibbs, publisher of History West Midlands. 
In partnership with Tom Epps of Birmingham City Council and institutions across and beyond Birmingham, Fernie is now developing a Heritage Lottery Fund project to revive Birmingham's forgotten Shakespeare Library with people and communities across the city.
To learn more about the 'Everything to Everybody' Project please click below: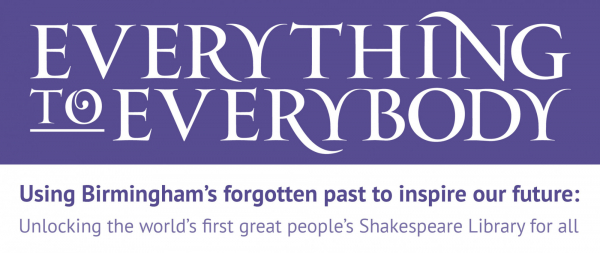 Keywords: Shakespeare, George Dawson, Library, Civic Gospel, The Bard, Birmingham, Professor Ewan Fernie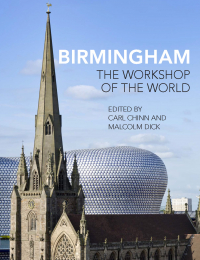 Birmingham
A celebration of the city's history and achievements, revealing the wonderfully rich diversity of Birmingham's people. Illuminating little-known aspects of the city's history as well as rethinking traditional events and activities. Presenting up-to-date historical and archaeological research to a general readership: locally, nationally and internationally. Written by experienced and distinguished...
With:
Professor Ewan Fernie
In: Birmingham, Civic Gospel, Shakespeare, Everything to Everybody, Ewan Fernie, George Dawson,